You are here

Mark's Musings: COVID-19 Update
Mark's Musings: COVID-19 Update
Submitted by Foundation Private Wealth Management on March 17th, 2020
Since our last post on March 2, the spread of Covid-19 has progressed throughout the world, affecting European countries in a particularly harsh way, relative to North America at this time. This has certainly created a very volatile and frustrating market climate with big daily swings in stock prices, both down and up. From a Canadian perspective, the market response was further fueled by the OPEC+ arrangement, where Russia refused to limit the supply of oil in response to reduced demand due to Covid-19. This triggered Saudi Arabia to respond in kind, causing oil prices to drop below $30 a barrel on WTI (West Texas Intermediate), and Canadian shares prices tied to the energy sector followed suit.
At the same time, governments and central banks have responded with policy decisions, stimulus spending, and easing of monetary policy in order to mitigate the recessionary pressures. We have learned from both China and South Korea that the fastest way to move past this crisis is through swift measures to curb the spread of the virus. These measures, however, obviously create short disruptions in daily life, but are ultimately short-term pain for long-term gain.
In my opinion, an important thing to remember is that this economic turmoil is not the result of an underlying financial or structural issue, compared to the 2008 financial crisis, for example. This current viral outbreak, like other similar outbreaks of the past (albeit at a bit larger scale this time), is a demand-driven economic shock. Once the virus is under control, more likely now to be sooner than later because of the precautions being taken, we will see a resumption in normalcy and an end to the economic turbulence. The chart we had in our post on March 2nd highlights the market downturn and subsequent recoveries, and if you haven't seen it would be worthwhile to review http://www.foundationpwm.com/blog/marks-musings-coronavirus. I am a big fan of tables, so I have also included several of the major outbreaks and stock market reactions below:

The difference this time, compared to past outbreaks like Covid-19, is the panic that has set in across the general population and the reactions as a result. We have all heard about in the toilet paper aisles of our local grocery stores. I firmly believe this can be largely tied to the media response to Covid-19 and its unprecedented coverage (see in the info chart "Mentions in the Media", which is taken from Google News search hits). It stands to reason that when the general public is concerned and the volume of coverage and speed at which news, information, and sometimes misinformation is disseminated to us is so high, that market reactions will be similar, leading to the increased volatility.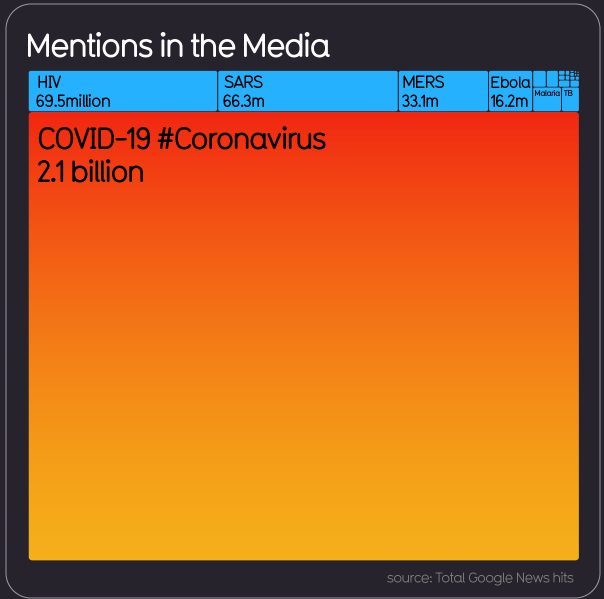 All the stimulus and protective measures being put in place to protect the economy, banking systems, business, and workers in the economy is unprecedented in my experience. Interest rates in all major economies have been slashed to virtually 0%, with US Federal Reserve cutting their rates Sunday to 0%-0.25% and reinitiating Quantitative Easing, along with establishing other safeguard measures. In living and working through the financial crisis of 2008 and 2009, I only wish governments had implemented coordinated measures as quickly as this to fend off economic uncertainty.
Despite the gloom that rests on the horizon, with the measures that have already been put in place, I believe the global economy will recover quickly once the virus is contained. Like many market prognosticators you may have listened to recently have opined, I also believe that we will see a steep "V" shaped recovery as the clouds of uncertainty clear.
In the meantime, please be safe, stay healthy, and do your part to help limit the spread of Covid-19. Finally, while you are spending some more time indoors, I thought the links below for an episode of Louis Rukeyser's Wall Street from Friday October 23rd, 1987, only 4 days after Black Monday – the day of the largest drop in the history of the Dow Jones Industrial Average – would be an interesting watch given the current market climate. It's telling that in the throes of such a catastrophic market event, that these prudent investors displayed such wisdom and calmness, compared to the talking heads we see on TV today.
Part I
Part II
https://www.youtube.com/watch?v=Lm_4j-_Dnwc&t=41s
Part III